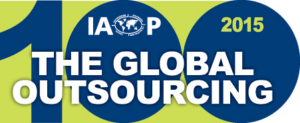 We are proud to announce that Oxagile was selected for the influential Global Outsourcing 100® list. For the third year in a row, IAOP recognized Oxagile's supreme commitment to excellence and a passion for continuous improvement that has been the hallmark of the outsourcing industry.
Compiled annually, Global Outsourcing 100® is an essential resource for companies of all sizes seeking new and expanded relationships with the industry's best outsourcing providers. The list includes firms all over the world that provide a broad spectrum of outsourcing services — from information technology and business process outsourcing to manufacturing and logistics.
Oxagile's Global Outsourcing 100® application underwent a rigorous scoring process in several key areas. In 2015, these included Size and Growth (as measured in revenue, employees, and global presence), Programs for Innovation, Delivery Excellence, and Corporate Social Responsibility.
Judging was based on a set of 100% measurable standards as well as an evaluation by an independent panel of industry-recognized outsourcing leaders that possess extensive experience in selecting outsourcing service providers for their organizations.
"Being named to The Global Outsourcing 100® list is no easy task," said Michael Corbett, IAOP Chairman. "IAOP is pleased to recognize Oxagile LLC for their excellence and achievement."
"It is a privilege to be honored as a Global Outsourcing 100® company," said Mihail Romanovsky, Head of Marketing at Oxagile. "Being named to the list of the world's best outsourcing providers means we're on the right track and will continue to grow and focus on improving our delivery processes and innovation programs to bring the best value to our customers — wherever they are."
About IAOP
IAOP is the go-to association leading the way to improve outsourcing outcomes by bringing together customers, providers and advisors in a collaborative, knowledge-based environment that promotes professional development, recognition, certification and excellence. With over 120,000 members and affiliates worldwide, IAOP is not only on top of the latest trends but in front of them. Through its expansive global chapter network, premier training and certification programs, knowledge center, member community and more, IAOP helps members learn, grow and succeed. For more information and how you can become involved, visit www.IAOP.org.
About Oxagile
Headquartered in New York, USA, Oxagile LLC is an internationally established custom software development company. Oxagile's primary expertise lies in developing enterprise-grade solutions across a wide spectrum of verticals. These include VoD/IPTV/OTT, distance learning, finance, e-Commerce, and more.
Throughout its decade-long history, Oxagile has had the honor and privilege of working with some of the world's largest businesses and best-known brands, including Discovery Communications, JumpTV, Google, MIT, Vodafone, and others.