August 21, 2013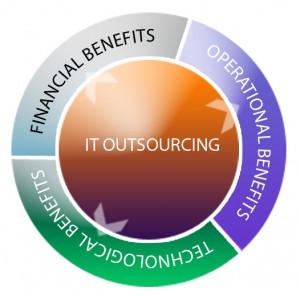 IT outsourcing is nowadays viewed as a kind of remedy able to help in any situation and pull virtually any project to the imminent success.
For that reason more and more companies plan to save on their own IT department and turn to those who are claimed IT professionals — IT outsourcing companies.
The path has already been well paved, as there are numerous IT outsourcing companies rankings on the Net, as well as topical discussion clubs and customers' references.
All these things which can help a needy company or a private individual to separate the husk from the grain and choose a reliable partner which quality level of servicing is passable.
So, we would like to highlight all the benefits a customer might obtain from turning to IT outsourcing to meet their IT necessity.
Saving would be among the first benefits on the list
In fact, cost reduction is a quite natural outcome of turning to outsourcing. Most customers are situated in Europe, the US, Canada where the cost of living and overall economic rates are quite high, while IT outsourcing providers are most of the time situated in Asia, South America or Central and Eastern Europe which ensures lower infrastructure spending, lower developers' salaries and thus a lower project estimate. Moreover, an in-house IT is a permanent budget burden while with an outsourcing contract you pay for the service only when you need it.
The quality of services provided
To fulfill some project the company needs either to have an IT department of its own or to hire a range of developers for some limited time, as usually an IT necessity is really temporary and does not occur often at the company's expenditures list.
If you have an IT department of your own – good for you, but would you like to have qualified or experienced developers for you project? Or both? The IT department of a company engaged into some area of business, other than the IT, can have qualified staff. However, in most cases their experience cannot be compared to that of people who make implementing various IT projects their bred-winning everyday activity.
For a company with no in-house IT specialists, a difficult and challenging hiring process is to be launched. Besides, a project might need specialists with qualifications in different IT fields which means several expensive employees are to be taken on board and for a limited time range. To believe that high skilled developers are lacking workplace is quite optimistic.
So, again, either another payment increase or a good deal of luck is necessary to obtain for a short span qualified experts in different programming languages or other necessary things such as design, system architecture, database management.
Flexibility for your business
Making an agreement with an outsourcing company, you do have a whole lot of different specialists at hand and any other who is needed to implement your project. That will be none of your company's personnel department headache. Well-established IT companies usually have a range of experienced professionals as well as an array of competencies across different domains which would be dreadfully difficult to generate in-house.
Sometimes they even know things about your business segment which you yourself were previously unaware of. To add up meeting all the risks the modern digital world might provide as well as compliance issues you get a full package at a relatively low cost.
Another perspective on the project will definitely be an advantage as well. Sometimes the IT provider with substantial expertise does know what you need better than you do. Your project can be developed more effectively than you previously estimated or both major and minor improvements can be suggested. IT providers are aware of all that is going on in the IT and will provide the latest developments that suit your tasks and benefit your business.
A released and implemented project is, no doubt, a step forward to the company's success. However, most of the time further maintenance and support is necessary to make all the things run smoothly. For a small company engaged in some other activities, it would be difficult to organize servicing and support 365 days round the year, while for the company which earns its bread on that, it hardly makes a problem.
Outsourcing provides manageable costs
While in-house IT departments are included at the general company balance and their expenditures and drawbacks have to be covered from the company's budget, all the drawbacks of the outsourcing company remain its own flaws and headaches and that's a great relief and some money saved.
The last but not the least argument is that it is better to do things someone excels at. So, focusing on core business activities and not distracted with the burden of taking complex and vital IT decisions contributes to the business in the utmost degree. While your IT project is assembled and built and oiled, you prosper in your own market making up strategic initiatives with the IT project which will soon be up your sleeve and pulling the saved resources for another company's thrust ahead to success.