June 7, 2017
In a world where flat-screen TVs have become common and almost every consumer carries a Full HD screen in their pocket, seeing is believing, and video is king.
Whether your business interests lie in entertainment, retail, marketing, advertising, publishing, sports, or pretty much any other consumer-facing industry, well-applied video content can help you reach out to a wider audience, build a lasting image of your product, and achieve bigger revenues down the road.
To tap into these benefits, you've got to decide on the best ways to create and deliver your content that would hit the spot with viewers and fit your business at the same time. There's no such thing as a perfect ready-made online video platform (OVP), and picking one is a complicated process with multiple factors at play.
With dozens of successful video-related projects under their belt, Oxagile's experts surveyed the pros and cons of different OVPs through the lens of their customization and development experience to produce a free downloadable white paper.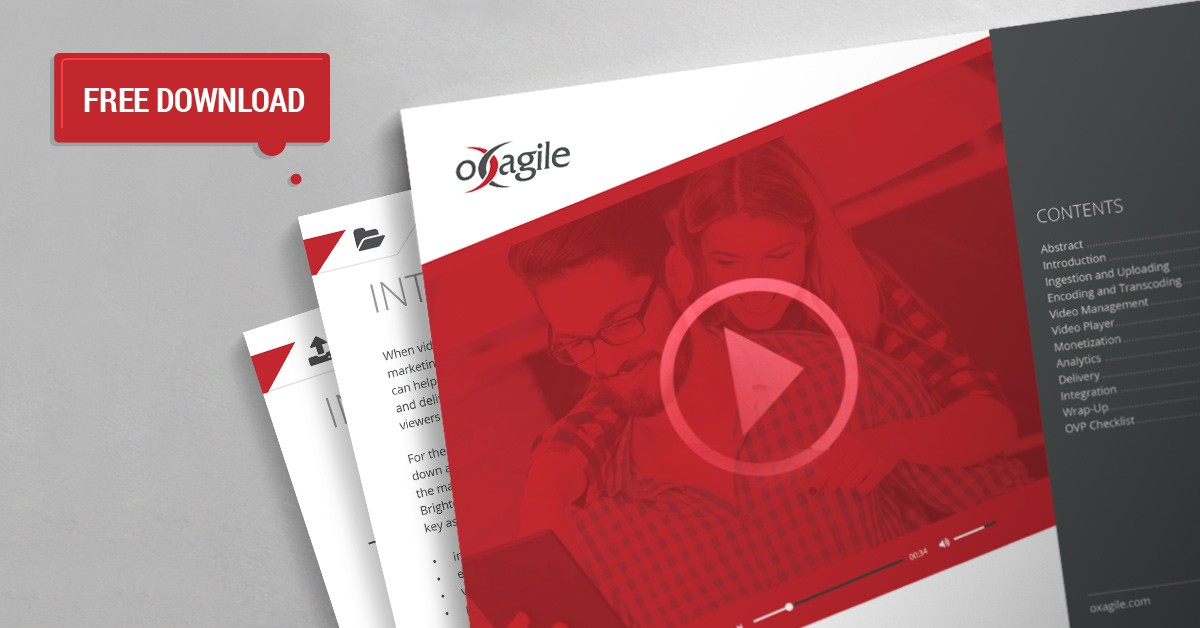 This definitive guide will walk you through the entire video delivery process, including ingestion, transcoding and encoding, DRM, monetization strategies, distribution channels, analytics, and more. Every step comes with a capabilities overview of the market's leading OVP providers: Kaltura, Brightcove, and Ooyala.
The solution you choose will form the backbone of your entire project, therefore every bit of relevant information is crucial. We firmly believe that our OVP guide in combination with a clear-cut list of your initial requirements is a great place to start.
If you have any comments or questions, be sure to send them in. Also, take a look at our video solutions skillset and get in touch with our tech expert if you'd like to discuss your next video-related project.