March 20, 2013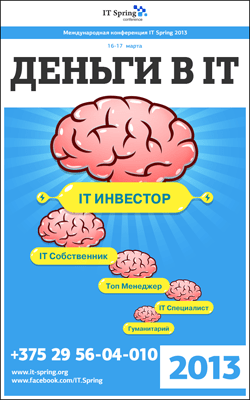 The second annual IT Spring conference is over. What are the outcomes and feelings left after the event?
IT Spring proved that Belarusian IT get-togethers are the events that are really longed for by the community and worth the time spent. IT guys are ready to meet to share and socialize on their topics of interest with the like-minded folks.
We expect quality presentations and bright presenters – and this year the conference gave the floor to many of them. We would no longer tolerate just see-through self-promotion speeches – we'd like to get value. And this value for us is hands-on experience and relevant advice from people who are there in the IT, and who are a success, who know that there is no road to the top without failures, but who are able to play their flops to their own advantage.
Some would say that there were plenty of no-brainers featured in presentations, but come on guys, we are not laymen in the niche and know what turns IT gears. After all, several good no-brainers can be easily converted into one or two brilliant ideas after being reminded of and when given a slightly different perspective to.
The coffee-breaks in-between the speeches oozed a friendly atmosphere and created favourable conditions for networking, and every here and there you would hear the latest IT rumours. The participants were able to continue their conversations and weave business connections.
The overall mood remained responsive and amicable both due to soft skills of the speakers who showed understanding despite all BUTs and TRICKs of Belarusian weather, and the efforts of Oxagile team that hosted the conference in the Spartan conditions.
In general, the event wasn't all perfect and there is always room for perfection – the lessons were learnt. What we can say for sure is that the conference left us uplifted as we realized that the COLLECTIVE IT BRAIN really rocks!
Looking forward to IT Sring 2014!