April 10, 2013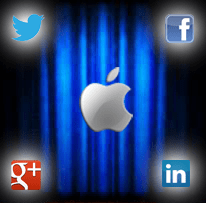 Social networking has been booming for about 5 years. At first it used to be just a stylish trend, later — an absolute must to have an account at some of the top-notch social networks like Facebook or Twitter.
Now it is an ordinary media channel with hardly anything new about it.
Marketers are aware of it and target them in their campaigns, web app developers and development companies make sure to integrate social networking features in all the web projects they are engaged in.
Users just take for granted that mixture of a personal psychiatrist and Speaker's Corner to share their views on virtually any subject.
Apple's Initiative in Social Networking Domain
Despite being a success in almost any field the Apple company is engaged in and turning into gold virtually anything it promotes, there are still areas where Apple's position seems doubtful and uncertain. Social networking is surely one of such activities. Ping turned out to be a rather painful failure, which gives ground to note that the company's specialists have a rather vague idea what users need to have in that social channel.
SN Integration – Way to Stay on the Edge
Aware of that the company is paying more attention to deeper integration of apps meant for Apple portables with those networks that definitely know what a user seeks in the social field: Facebook, Twitter and Yelp. Though, some people doubt it to be the end of Apple's ambitious plans to be the One in all activities it is engaged in. Is Apple plotting anything behind the scene and preparing to unveil it once it is firmly supported by a range of legally valid patents?
Plans and Plots for Future?
Most would agree that it would be quite Apple-like to keep a low profile, developing a new functionality and preparing for an assault without any haste. That would remain just a web buzz if not for the latest news that Apple gained a patent last week meant to cover certain functionality to efficiently manage data in social networks and optimize friend searching mechanisms. Moreover, iOS apps development specialists are said to pay special attention to spammers and stalkers protecting users from high-volume messages which they regard as suspicious.
So, there are grounds to hope that Apple will hit the market with the superb product as it often does. The only thing which blackens the picture is that it might provide reasons for another surge of patent scandals that the company is that notorious about.